Customer Reviews
06/23/2020
Jennifer M.
United States
Do you want to feel amazing?
After doing the 12 week program I've lost weight and dress sizes but gained strength and confidence. If your on the fence about buying a flobody gym, let me tell you to do it! You will not regret the ease of using this product or the response of the company to your questions or needs. I had an malfunction that was of my own making, and they replaced the item, no questions asked. Great company, great people. Do this for yourself.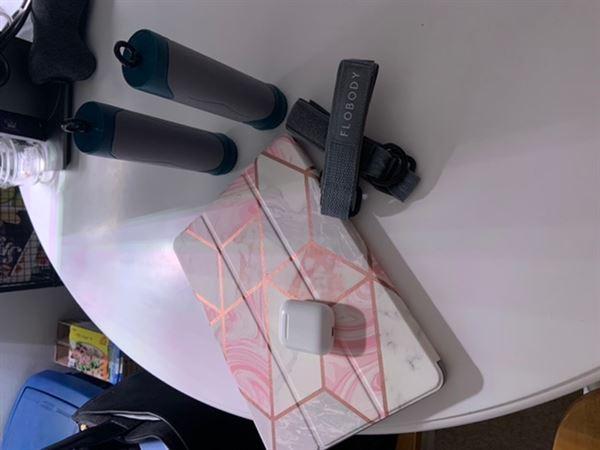 06/17/2020
Diana S.
United States
Finally!
Hello! I am not one that uses much of any social media so I wanted to reach out personally and share how much I have enjoyed my Flobody! I am going into my 5th week and not only am I extremely happy with results, I absolutely LOVE this mat. Over the past 4 years I have tried so many DVD programs (P90x3, 21 day fix, pilates, yoga streams such as Gaia), Fitness Studio of Orlando (Pilates Reformer which is above and beyond expensive), Bar Method, etc. I was lost and thought I would never find anything I could stick with. Then across a Instagram ad on an Instagram I rarely use other than baking ideas, I found your mat! A workout that gives you the lean sculpted look I loved with reformer without the big price tag. I love the price point and that I can take my laptop/iPad anywhere to access videos, even workout with a friend! The 30-40 minute workouts keep it just the right time so I don't create a million excuses of I don't have time. While I have had to modify a few parts, it does not discourage me. It does the opposite and encourages me. Dreaming of how much better and healthier I will be for when I complete the 12 week program again and being able to upgrade to more resistance or doing a push up that looks "pretty". I just had to say, Thank you! Thank you for the best home workout that fits my lifestyle and fitness level perfect with plenty of room for growth and improvement without feeling discouraged.
05/27/2020
Megan C.
United States
Six months later and still worth the purchase!
I really love using the Flobody Gym. I bought this on a whim fall 2019, and it has been worth every penny! I've used it consistently for the last six months, and I love how many different kinds of workouts are possible. I also appreciate that there are free workouts on YouTube to help get an idea of the possibilities. If you're looking for an all-in-one option, this is your answer!
05/11/2020
Janet B.
United States
Flobody Gym
Love it. Very convenient
04/22/2020
Shelby W.
United States
Love this program!
I'm already two weeks in and I'm addicted. Love the workout and the video guides keep you motivated the whole way through.