The Flobody Gym purchase does not include the "S" band (short band), also known as the "connector band." If you have progressed beyond the included 5lb "S" band, the 10lb "S" band is available for purchase.
Adding this band will also allow you to work both legs at once with your foot straps. 

Each band offers increased resistance when stretched without straining joints. Improved athletic function and flexibility. Great for rehabilitating injuries and helping with chronic pains.
All bands do contain latex. Only available in grey.
Resistance & Weight
"S" Short band
Band #2

XS
Band #3

XS
Band #4

XS
Handle Weights x2

XS
Flobody Gym

XS
| | | |
| --- | --- | --- |
| "S" Short band | 5LB | BEGINNER |
| Band #2 | 5LB | BEGINNER |
| Band #3 | 10LB | INTERMEDIATE |
| Band #4 | 15LB | ADVANCED |
| Handle Weights x2 | 2LBS | BEGINNER |
| Flobody Gym | 10LBS | ALL LEVELS |
Netflix Star: Brianne Howey
"Doing Pilates at home has been an amazing resource when I'm shooting or even when I just can't make it to a class."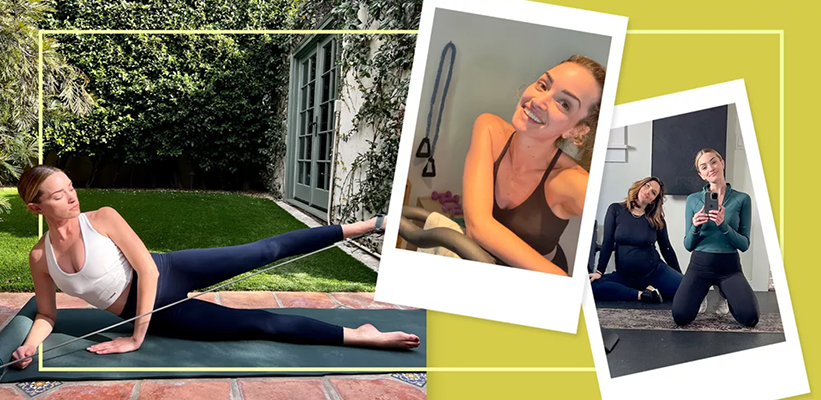 Are there tutorials?

Totally! These are so important in the beginning and will help you fully understand our training system. Check our tutorial on Youtube here.
Are there workouts to follow?

Want to get structured? Get full 6 and 12-week programs and hundreds of Flobody workouts by streaming on-demand here.

As an on-demand member, enjoy free access to our add-on streaming platform Flobody 9.

Flobody 9 features low-impact workouts outside of the Flobody Gym. Perfect for your days off. Along with yummy recipe videos and a community chat called Flobody Express.

Not ready to go on-demand? We have free workouts provided on our Youtube channel.
What are the Flobody Gym specs?

Yoga mat: 72" L x 24" W x 6 mm thick. Extra long and lightweight, non-slip texture, and made from biodegradable TPE. (2) Handle attachments - 2lbs each. Weights are removable. (3) Regular band resistance - 5lb, 10lb, and 15lb. (1) Short band resistance - 5lb.

Total package weight - 10lbs.
What are the resistance bands specs?

The Flobody Gym will come with multiple bands including a 5lb, 10lb, and 15lb band. Most don't use the 15lb band for our workout style.

Your order will include a shorter 5lb resistance band for increased tension.

Bands contain latex.