1
EVERYTHING YOU NEED
Dozens of customizations to fit your needs. Combine weight and resistance to get you toned.
2
SCULPT, ENERGIZE AND ACTIVATE
From traditional workouts to Pilates, Barre, HIIT, cardio and more. Protect your joints and still get a sweat.
3
BUILD, STRENGTHEN, & TONE
Reach spots on your body that you never knew you had and hit all muscle groups.
Customer Reviews
Write a Review
Ask a Question
01/21/2022
Devon

United States
I recommend this product
Love it! Great workout!
I recently received my Flobody gym and am only in the first week of workouts and am loving it. They are intense but not intimidating and go by so quickly. I really appreciate that the workouts so far have included low impact modifications, as someone who has struggled with knee issues it's been great to have those modifications and still get a good workout in! My dog likes getting her workout in too
01/19/2022
Jenna

United States
I recommend this product
Great Investment!!
Just got it last night, and I can't believe how much comes with it. Amazing price for all you are getting! All you need to get started on your fitness journey. When I went to first use it I couldn't believe how easy it was to use! I went to do one work out and it turned into two! Now I can enjoy my Pilates workout with resistance bands that make it like the Pilates reformer workouts I love to do but haven't been able to go do with Covid being so prevalent right now. It was definitely worth the wait! Also I want to add their customer service is amazing!! I have had a couple questions and they get right back to me and are so helpful and kind. Definitely would recommend the Flobody Gym if you love Pilates/mat workouts! Pair it with their workout videos and you are set! And all the accessories fit neatly in the carrying case provided as shown in the picture.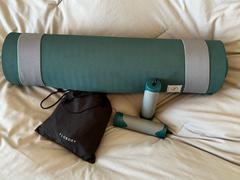 01/13/2022
Brook B.

United States
I recommend this product
Love my Flobody!!!
I am so happy to have stumbled across the Flobody Gym last spring. As an ER nurse and new mom the last few years have been a blur. COVID shout down the gym I attended for several years. The constant battle just to survive every shift at work has been physically and mentally exhausting. Coming home from a 12+ hour shift and having to be a mom and wife had put me into survival mode. Then I found Flobody. It's the one thing I look forward to doing for myself everyday! Can't say enough good things about it! It has helped me decompress and be a better wife, mom and nurse.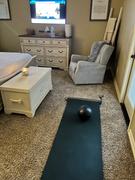 09/29/2021
Megan D.

United States
Great for a new type of home workout!
I've been using the Flobody Gym for about 2 weeks now. My schedule got a little too hectic to make it to the gym the past few years and I largely found myself doing yoga at home but wishing I could somehow incorporate more resistance training to my mat work. When I came across it on an Instagram ad I was intrigued! I just started the 4 week reboot and I am really liking the system. I think it's so well thought out and the quality of the attachments is really good. I think one of my favorite things about the video programs is that each class is a new video and it's not just the same video repeated. It really makes me feel like I am showing up to a class! I think my only suggestion would be to maybe have a version of the mat that is more non-slip for yoga-poses as I've been having a little difficulty holding a down dog. Even if it's a little bit heavier I'd love to have that option and then I could switch back to the standard one for traveling! Overall awesome product.
09/29/2021
Sierra H.

United States
Awesome Workout
I was very surprised with how great of a workout you get with just this small system, with only a few things. I just finished week one and can't wait to start week 2!